Meet DOT Mandate for ELD, Plus DVIR, IFTA, and more.
Take the stress out of HOS rules
Meet your DOT compliance obligations, automate data collection and help your drivers stay legal with an easy-to-use mobile solution that covers a range of mandates including ELD/HOS, DVIRs and IFTA.

Drivers will always be aware of the remaining driving and on-duty time before incurring in a violation. Penalties and fines for usual violations will be eliminated and your CSA score should improve as the number of violations goes down.
Maintain 395.15-compliant electronic logs (AOBRD/ELD)
More flexible auto-switching based on change location after 1-mile of distance.
HOS reports available instantly, anytime, at carrier portal web.
when drivers make a mistake with their logs, you're able to correct it.
Stay legal with automatic HOS-limit warnings in real time on main screen.
Comply with the latest ELD mandate requirements and exceptions
Electronic logbook software that meets the requirements of the ELD mandate and streamlines HOS records and roadside checks.
Using just a smartphone or tablet, drivers can sign off on a full inspection, include detailed photos and synchronize instantly with a central database.
GPS-tracked interstate driving records simplify the process of collecting the information you need for accurate IFTA reports.
Drivers can access the compliance software they need using a single device. Phone or tablet, theirs or yours, it's powerful DOT compliance software in the palm of your hand.
PAPERLESS DRIVER VEHICLE INSPECTION
Complete pre-and post-inspection reports for commercial drivers in the USA & Canada. Options for driver, mechanic and carrier approval signatures. Browse and download old reports. Drivers and carriers can take up to 9 pictures to record tractor and trailer issues.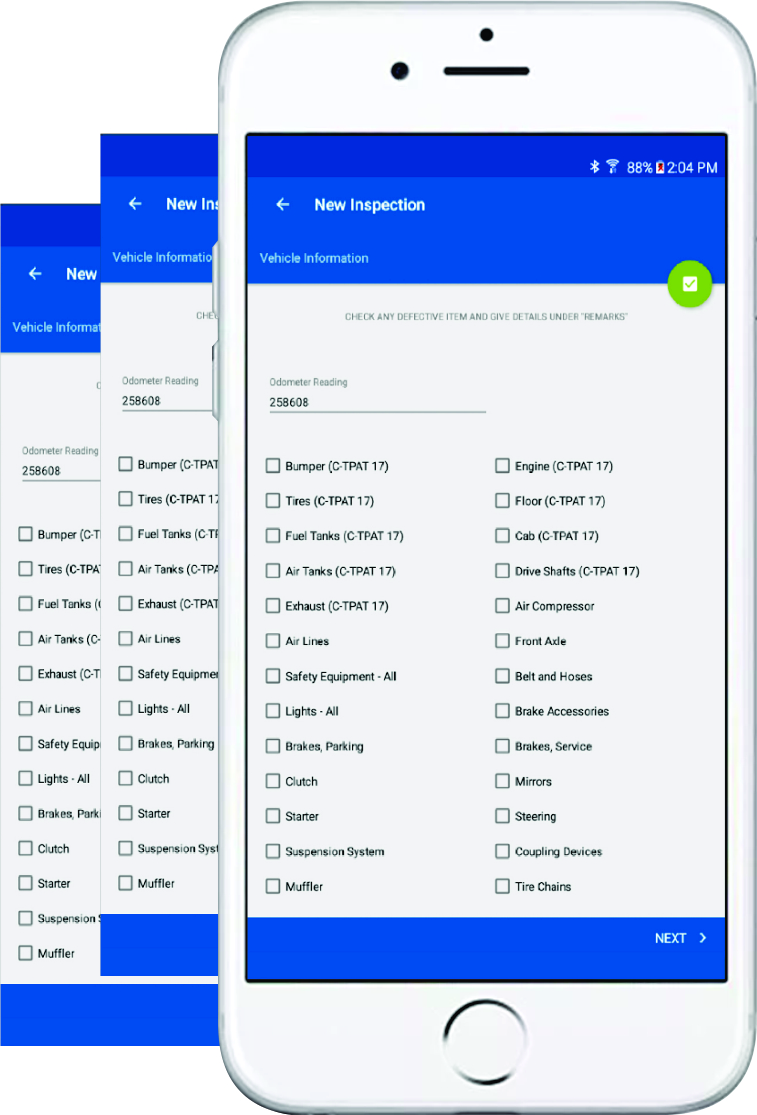 STREAMLINE & SIMPLIFY DVIR PROCESS FOR DRIVER

Create daily inspection report, filling out an easy form on truck and trailer separately.

E-signature report is need as the driver as the mechanic/carrier.

Picture of damages, you could take a photo for each damage found.

To upload report to web portal.

Our HOS solution supports team drivers logged in the same mobile devices and maintains each driver's records accordingly. Drivers can login from different devices at any given time.

Driver hours are available (in real-time) to the driver, at your office and to the DOT. Daily view as well as weekly summary. Information can be downloaded (as required by regulation) by the DOT.
Every driver status change is sent to our tracking servers and is available in real-time from any web browser. Detailed information (date, time, nearest city, odometer, previous/current driver status, violation information) is available for every status change.
Receive HOS-related notifications on your email inbox or your mobile phone. Each HOS violation (for current and final rules) is identified by the system and forwarded to one or multiple users. Besides driver behavior violations, multiple logins and login from unauthorized devices are also identified and forwarded to you.
DVIR reports can be electronically signed using their touch-screen device and stored securely for audit purposes.
GPS hardware or mobile device collects location data as well as movement to automate change of status for accurate HOS reporting.
Choose from factory-fitted or aftermarket vehicle GPS hardware, or just use the driver's mobile device to track driving hours and complete inspection reporting.
Completed DVIR form data entered offline is automatically synchronized as soon as the device connects to the Internet.
Driver IDs, logins and restricted access means customer data is secure, and safely backed up in carrier-grade data centers with full reporting options.
DVIR forms can be customized to meet the specific needs of any equipment or vehicles being inspected to improve usability.
DVIR or HOS forms are filed instantly and electronically, eliminating paperwork and improving accuracy.
Stay connected with your dispatcher and shipper/receiver warehouses to receiving decisive instant notifications.